LEADERSHIP
DIL Pakistan operates under the auspices of a Pakistan-based Board of Trustees. DIL Pakistan was registered in 2003 under the Societies' Act (1860).
Board of Trustees
The DIL Pakistan Board of Trustees develops strategic goals and program initiatives; reviews and approves annual plans and budgets; assists in expanding outreach, visibility and donor support; and monitors the progress of the organization.
List of Trustees
Shazad Dada, Chairperson
Saeeda A Fancy
Nasreen Iqbal
Tasnim Shaheryar
Dr. Anjum Riaz ul Haq
Fiza Shah (CEO)
Zibber Mohiuddin
Kamran Nishat
Amjad Khan
Developments in Literacy (Pakistan) is registered under the Societies Act (1860).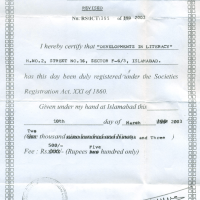 DIL has also been certified by the Pakistan Center for Philanthropy, for having met standards in areas of Internal Governance, Financial Management and Programme Delivery.